Every year, discerning fly anglers from across the country gather in the Florida Keys to hunt what many consider the most elusive game fish in the world. At the recent Del Brown Permit Tournament – honoring the legendary angler who caught and released more than 500 permit on fly tackle – fourth-generation Key West fishing guide and G. Loomis Ambassador Brandon Cyr led Mike Ward of Spokane, Washington, to six releases over three days to earn the team grand champion honors.
"It is honestly still surreal and has not set in. When I first started guiding that was my goal — to win a major permit tournament," reflects 28-year-old Brandon Cyr on his second major win, one that checked so many boxes in his young career. At the time Brandon began his career as a professional guide there were only two major tournaments — the March Merkin and the Del Brown. Now there's the IGFA Permit Invitational, which Brandon won in 2020, that event's inaugural year.
"It's just mind-blowing to me. I still feel like I'm the young guy trying to chase everybody down, so to actually have success like this is just beyond me. I don't know how we pulled it off, but we did."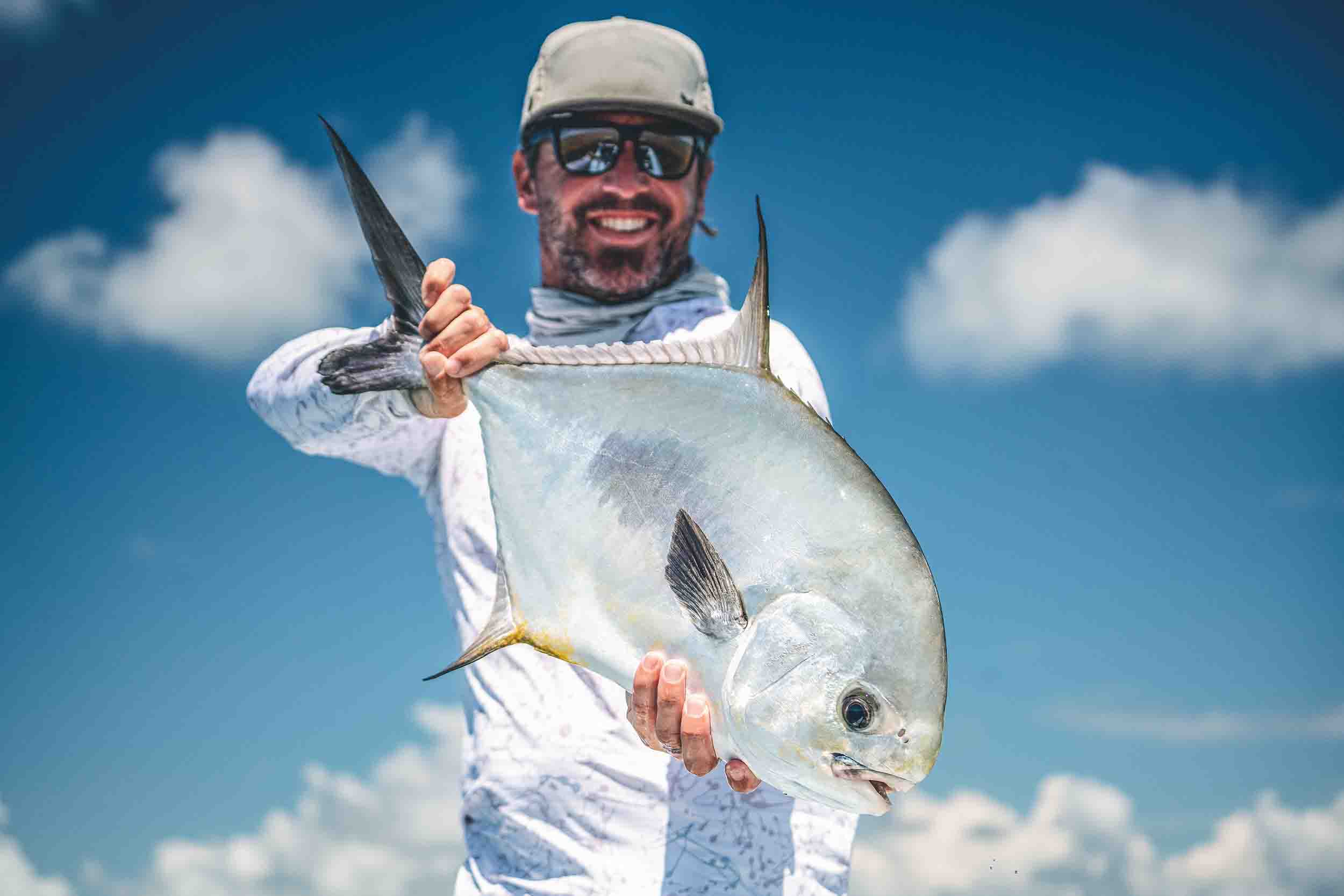 The task at hand is no easy feat, with angler and guide both deserving equal recognition for every successful release. Permit have an incredible sense of sight, smell and sound, and analyze their prey more than any other fish on the flats. Convincing such a keen opponent to eat a fly is one of angling's greatest feats. To do it consistently over the course of three days — and to best an expert field of talented, ambitious and well-traveled anglers and guides —requires intricate knowledge of the fish's characteristics and relentless dedication to the species.
"If I could pick the perfect permit weather, I would choose 10 to 15 mph winds. Just enough to hide the noise of the boat and hide the noise of the fly landing, but not enough that it hinders the cast. Ninety percent of the time we are permit fishing in the wind, and we had the opposite of that all week for the Del Brown. The first day we left with about 5 to 8 mph hour of wind, which makes things a lot harder."
Key West's shallow flats offer world-class opportunities and Brandon Cyr has been fishing there his whole life. But it is a challenging fishery. Permit are highly pressured and spooky, and opportunities are often limited. Weather makes things even more difficult.  

"That's one of the reasons a lot less fish than normal were put on the board. It was calm and very hot. By the end of each day, the water temperature was around 91 degrees. That really played into our strategy. When I scouted a couple of days before the tournament, I was looking for places that had an insane amount of current. I knew with the water temperature and wind conditions that the fish weren't going to be doing their normal things," notes Cyr.
On blistering hot summer days, it can pay to locate light-colored flats with deep water in the vicinity. Permit will often move up to feed for only a short time before retreating to deeper, cooler water.
"The way that I like to fish for permit and how I set the boat up is very specific. My brother and my father are both guides, and they might fish the same flat and the exact same fish but in a completely different way. All of my gear is tuned exactly for what I need it to do and for how I plan on presenting the fish to my anglers."
Familiar to the Lower Keys tournament scene, Cyr and his angler Mike Ward fished together in the 2021 Marc Merkin, where they tallied the event's biggest permit but could not break into the top three places. Ward has been fishing the Del Brown for more than a decade and in his best showing yet the self-proclaimed permit junkie tallied a fish measuring 27.5 inches on the first day, followed by a 24-inch and 26.75-inch fish on day two. Day three proved similarly in the team's favor, with Cyr guiding his angler on the bow to a 28.25-, 26.5- and 23.25-inch release for a three-day total of 900 points. The strong finish on day three was enough to add their names to the Del Brown Permit Tournament's perpetual trophy displayed at South of the Seven restaurant on Sugarloaf Key.
The life of a permit guide is a constant learning curve. Brandon Cyr is one of the brightest rising stars in saltwater fly fishing and G. Loomis congratulates him on yet another exceptional accomplishment.