With enticing baitfish motion, multi-point articulated "swim flies" rapidly became an essential pattern in any serious bass angler's box. Unfortunately, this massive innovation in streamer design outpaced the hardware used to deliver the goods. Early adopters – like G. Loomis Elite Ambassador/Product Advisor, Mike Schultz - quickly realized repurposed saltwater sticks were not the solution for tucking accurate casts under obstacles or properly animating flies on retrieve. The need was clear: develop a quick-loading action for accurately punching flies into tricky cover that also transmits every twitch, bump, and slide directly to the fly for precise swimming action on the strip. Rolled with our most advanced compound taper construction to date, NRX+ SF provides power, finesse, and sensitivity over the broadest range of casting distances and styles. Built to Schultz's specifications, these ultra-versatile tools are designed from the ground up to crush variables and maximize angler performance on the water.
Key Features
Dynamic Recovery Technology
Single-foot recoil guides
Titanium SiC stripper guides
Full wells, AAA grade cork grip
Custom aluminum reel seat with fighting butt
Aluminum rod tube with cloth rod bag
Handcrafted in Woodland, Washington
Product Image Gallery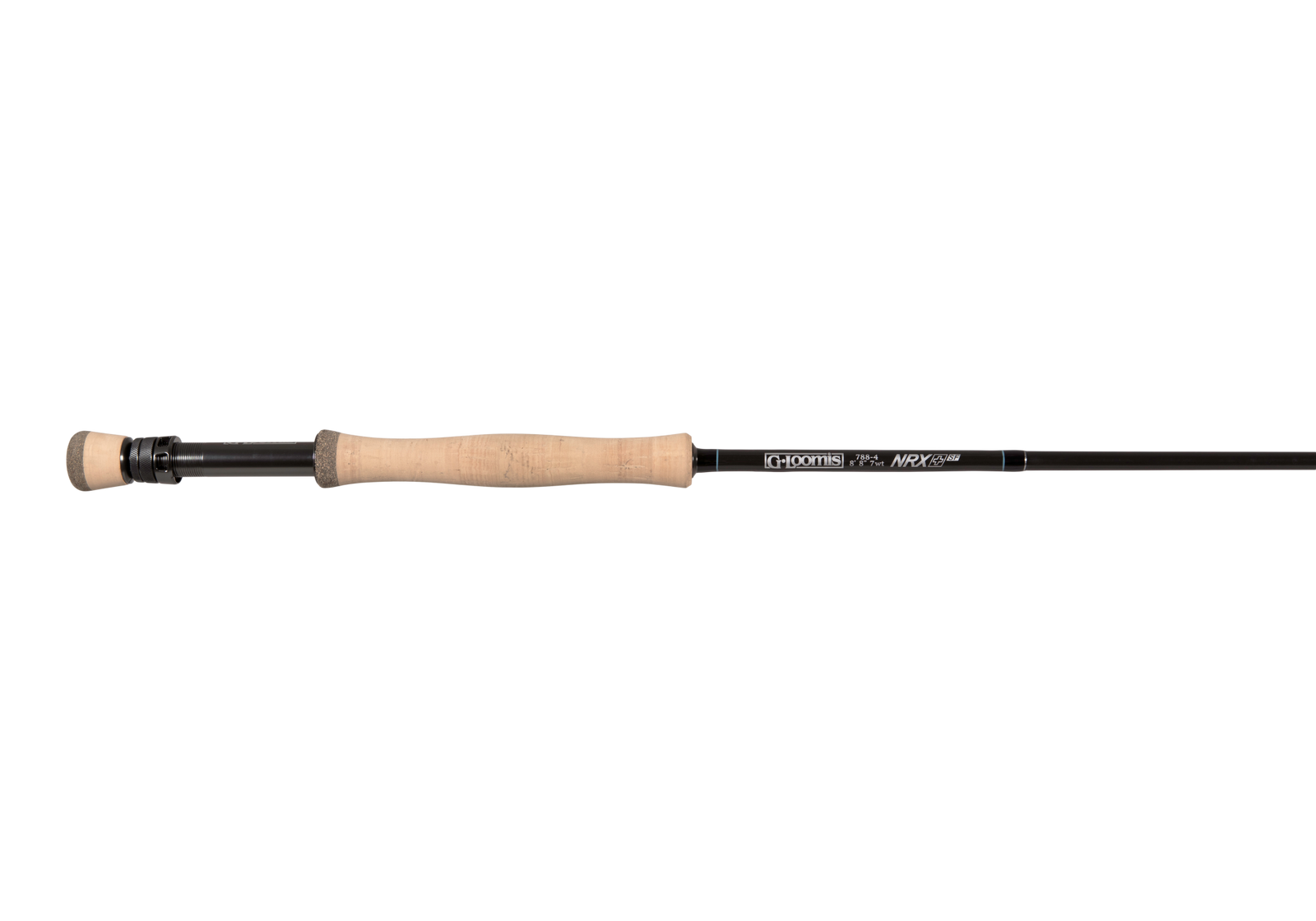 Models Available
NRX+ SWIM FLY Product Variants

| Sku | Model | Length | Action | Pieces | Line | Handle | Price | |
| --- | --- | --- | --- | --- | --- | --- | --- | --- |
| 12807-01 | NRX+ 788-4 | | | | | | $1,384.99 | |
| 12812-01 | NRX+ 888-4 | | | | | | $1,384.99 | |
Technology
DYNAMIC RECOVERY TECHNOLOGY

Dynamic Recovery Technology is a blended system of several elements. Our all-new Mega Modulus+ graphite matrix and GL8 resin system, combined with the industry's most advanced compound taper construction process, creates crisp actions with smooth, rapid recovery. The key to achieving these performance characteristics is a reimaging of our proprietary Multi-Taper Design technology. Traditionally used to enhance durability and swing weight, the G. Loomis design team developed a method of applying a similar process to improve loading efficiency and feedback. This widens the power and recovery "sweet spot", providing performance with feel regardless of casting distance.

MULTI-TAPER DESIGN

Since 1982, we've pushed the boundaries of manufacturing technology, materials innovation, and product design. That's why G. Loomis fly rods deliver superior performance, heightening angler experience and effectiveness on the water.

While there are countless examples of this philosophy in action, one technology in particular encapsulates our drive to build the most advanced rods in the world: Multi-Taper Design.

Multi-Taper Design is best described as a series of "micro-tapers" within the overall taper of the rod. This unique, proprietary process allows us to use more material on potential break points and less material everywhere else. To accomplish this, we manufactured a custom rolling table...and it's the only one in existence today. The result is a catalog of precisely defined actions that strike a perfect balance between durability and performance.

NRX MATRIX

The essence of perfection. Using Mega-modulus material with incredible tensile strength, and our most advanced proprietary GL7 Resin System, rods built on the NRX matrix are the lightest, most sensitive traditionally constructed graphite rods ever produced by G. Loomis. Anglers can easily feel the difference between their lure dragging across sand, gravel and rock in water depths exceeding 60-feet. The graphite, resins, and components used to construct these rods come to life enabling the angler to be confident that they have the right tool for the job while exceeding all expectations.

SIC TITANIUM STRIPPER + TITANIUM RECOIL SNAKE

The perfect marriage of strength, weight savings, and stealth. While our ultra-light titanium snakes look the part of a traditional guide, the added benefit of flexibility is great insurance when storing your sticks in a skiff or drift boat.